$1,988.00
Well this is Exciting!
I'm now introducing the Kuvings CS600 Professional Cold Press Masticating Juicer to our website for sale, so you can literally create your own juice cleanse at home, at the quickest of speed!
Yep, in terms of juicers, I've tried and tested most of them, and I must say, this juicer was LOVE AT FIRST SIGHT, as I witness how quickly I could whip up divine juices for the week ahead.
I pride myself on not selling anything on my website, unless it has personally changed my life!
And I must say, the Kuvings CS600 has literally blown me away..
So on the website it goes!
With my 5 Gold Star Recommendation!!
Ok So what does this Juicer Do Anyways Nadia?
Well…
The Kuvings CS600 Chef Professional Cold Press Masticating Juicer, is the First Commercial Slow Masticating Juicer to be produced and sold on the market.
Which means, you have the chance to make your own premium juices, at your home, whenever you like!
Which also means, this baby will take number one position on your kitchen bench, and should be treated like your best friend or employee!
You will know why next!
Are you ready…
 The Kuvings CS600 Chef Professional Cold Press Masticating Juicer,
JUICES 40 LITRES PER HOUR!!
(Yep, 40 Litres an Hour!! There is your money back right there!)
As the time I have saved going from the EVO820 to the CS600 is INSANE!
We are talking halving the juicing time! and with the new inbuilt fan system, this baby keeps going strong for 24 hours straight!
Yep, if you are serious about having a juicing lifestyle or juicing quarterly, or you are on the journey to a Pranic Bliss way of life, YOU WANT THIS MACHINE IN YOUR KITCHEN!!
The Kuvings CS600 Chef Professional Cold Press Juicer, has a Unique juicing system, that holds and squeezes all the nutrients out of the produce, to the greatest extent, whilst keeping the juice cool in the process, with the inbuilt fan system.
It has a brilliantly strong stainless-steel base chassis, and the fan motor system is extremely efficient and one of its kind, and for this reason, has been cleverly patented by Kurvings.
Ok so what's the difference between the EVO820 (which is $888 on your website) and the Kuvings CS600 Chef Professional Cold Press Juicer (which is $1,988), and why on Earth would I pay twice as much for a juicer that looks similar?
Well with the Kuvings CS600 Professional Juicer, you get:
The patented commercial motor, that enables you to make 40 litres of juice an hour, and can juice for 24 hours straight! (The EVO820 is slower)
The newly designed components, which are bigger and tougher
An extra-wide 3.5 inch feeding chute (so in goes whole apples!)
A stronger stainless-steel chassis/base
A larger auger, allowing more fruits and vegetables to be pressed at once
A larger 88mm Flap Gate (Feeding basket), allowing you to juice whole apples, carrots, and other produce.
NOTE: The flip gate also automatically pushes down produce and ensures safe usage.
Extended use and life span of product, as it is an Industrial grade motor
A quieter juicing process (with the 40dB Noise-reduction design, the new low-speed rotating deceleration motor is stronger, but the noise and vibrations from the motor is lower, making it suitable to have at home, and again as a centre piece on your Kitchen Bench!)
ADDED FEATURES OF THIS MODEL:
The Kuvings CS600 Chef Professional Cold Press Masticating Juicer:
Has the World's Strongest 200W Brushless Motor
Was developed with a unique patented technology called J.M.C.S (Juicer Module Comprising System) to extract the maximum amount of nutrients out of your produce, for a nutritional juice, with minimal separation!
Has minimum friction with the 40dB Noise-reduction design, thus allowing for a smother juicing process, longer lasting motor, and less static energy
Contains a low-speed 50 RPM motor, that is able to process a variety of whole fruits and vegetables.
Stays cool, thanks to the slow masticating speed and 3-way ventilation channels
Has a stainless steel gearbox
Contains a larger auger, allowing you to crush and press larger quantities of fruits and vegetables at once, decreasing your overall juicing and prep time
Contains an easy to clean system with a rotating Cleaning Brush
Has a smart Juicing Cap that prevents dripping
Allows for a quick rinse with water
Has an Effective Safety-lock System, allowing the juicer to work, only if the main body and drum are connected correctly, thus is suitable and safe to use in a commercial kitchen and/or environment
Provides a faster and easier juice extraction, which can be shown by the thick pulp by-product
Is Very Easy to Assemble and just so Easy to use!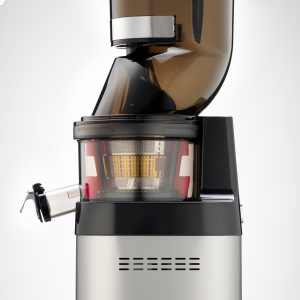 CS600 Specifications
Model: CS600
Colour: Silver / Stainless Steel
Type: Commercial Vertical low speed masticating juicer
Speed: 50 RPM
Wattage: 200W
Dimensions: 260 x 183 x 515mm
Weight: 9.1KG
Summary:
In a nut shell, the CS600 Professional Juicer (compared to the EVO820), will cut your juicing and preparation time in half, making it easy to whip up a quick 15 juices for you next 3 to 4 days, once prepped.
This is a Commercial Machine, so it should last you a lifetime, if cared for.
And Remember, you have the ability to juice for 24 hours straight and produce 40 Litres an Hour, so you will have ABSOLUTELY NO EXCUSE not to treat yourself to daily juices and to make yourself juice cleanses quarterly.
As this professional cold press masticating juicer, makes Juicing SO FUN, and not work, or something you "have to", or "must do", instead you will be looking forward to Juicing!
If you are serious about Juicing, Serious about cleaning your channels and manifesting, and want to make this apart of your everyday lifestyle, then BY GOSH, THIS IS THE MACHINE YOU WANT TO GET!
You will feel like a King or Queen with this darling on your kitchen bench top!
To purchase The Kuvings CS600 Professional Cold Press Masticating Juicer: Click Here
It will Change Your World!