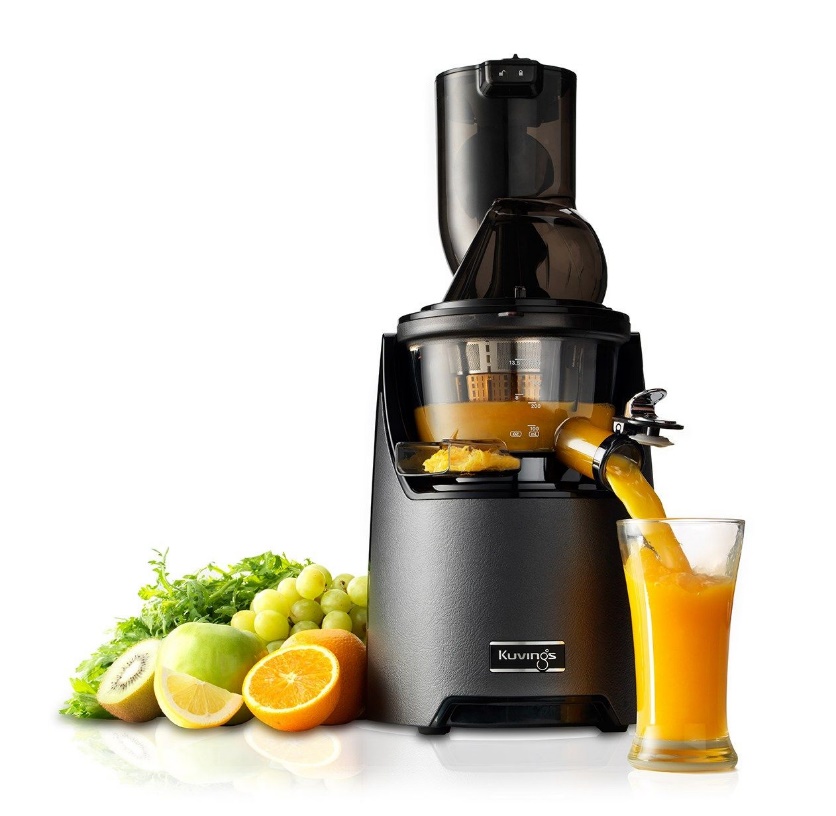 We welcome to Juicing with Nadia K, the Latest 5th generation EVO820 Evolution series Cold Pressed Slow Press Juicer from Kuvings.
The Kuvings, unlike other high speed grinding juicers, mimics our natural chewing motion, and allows a masticating process to be achieved as it gently presses your fruits and vegetables, ensuring all enzymes and nutrients stay intact, and are not lost through the standard high speed blade process of most household juicers.
This is THE MOST IMPORTANT aspect to look out for when purchasing a juicer, is to ensure you buy a cold press or slow masticating juicer!
This is to ensure the vitamins, nutrients and enzymes coming from the produce, stay intact and alive and are not exposed to fast oxidisation or heating. NOTE: To have your juice oxidised and go rancid would defeat the whole purpose of juicing, as most of the enzymes will be killed and your juice will go rancid in a few hours (unless you drink it straight after making). It is vital we don't let this high heat, high speed process happen when juicing to ensure all the goodness stays for as long as possible.
Juicing with a Cold Press Juicer or Slow Masticating Juicer, such as the Kuvings EVO820, allow these valuable alive enzymes to be;
a) extracted out into your juice as much as possible from the produce, and
b) stay alive and rich in Life Force, so your juices stay rich in goodness, and still tasting amazing for 3 days and up to 4 days (if using a Tesla Pocket Plate).
This slow extraction process can be achieved through purchasing a High Quality Slow Masticating Juicer such as the Kuvings EVO820 which I have tested and am extremely happy with.
I promise you, the Kuvings EVO820 will be one of the best investments you make, in terms of Value for Money Cold Press Masticating Juicers!
The Kuvings EV0820 has been recently tested by myself, personally alongside 6 other top selling juicing machines on the market, in all aspects of the juicing process, in terms of Value for Money, Quality of Juice, Shelf Life, Time Efficiency and Clean Up.
The Kuvings EVO820 by far exceeds the other domestic juicers I have tested, in most of these aspects (especially in being the quickest juicing process, easiest to juice and most fun) whist still providing optimal juice. It by far meets the quality and standards I believe are necessary to achieve the optimum level of nutrients whilst juice cleansing.
"I have now personally tried and tested majority of leading juicing machines on the market over my 15 years of juicing experience – and for a Value for Money Domestic Cold Press Masticating Juicer, the Kuvings EVO820, is by far my favourite Juicer to use, due to its efficiency, time saving capabilities, ease of juicing process and quality of juice!"
The Kuvings EVO820 makes the Juicing Process SO MUCH FUN!
Optimal Benefits of the Kuvings EVO820:
Extracting and obtaining the maximum amount of nutrients from your produce (this can be distinguished by how "wet/soft" or "dry/hard" the pulp is. NOTE: The harder the pulp, the more nutrients are being extracted.
The new ease of pulling apart and putting together the juicer, making it a lot quicker and easier than earlier versions of the Kuvings I have tested in the past. NOTE: Kuvings now include a new Lever to make easy for those with arthritis or lack of strength in their hands
New and improved measurement pouring cups and cleaning utensils
The EVO820 now comes with a titanium juice strainer, to ensure your juice stays silky smooth!
A new efficient slow press motor, allowing for a much quieter juicing process
Smooth sorbet accessories are also available
A HUGE 20 Year Warranty on Motor and 5 Years on Parts
A stylish leather pattern and streamlined body that looks and feels luxurious
An automatic 'O' shaped flip down feeder, making the juicing process a lot cleaner and easier to feed fruit and vegetables into
A stronger motor, allowing for a crushing of larger and harder vegetables
The juicer is made with strong and reliable materials and the extracting container is made with BPA-free Tritan.
Lastly, 7 Fabulous New Colours are now available, Being: Black, White, Silver, Gold, Red, Rose & Gun Metal Grey!!
Other Key features include:
New 5th generation Drum Set
New advanced patented motor allowing for longer juicing time
Larger 82mm feeding gap (wider than previous models)
Easy pulp washing outlet
New stronger lid with 4 lock in points
20 Years Warranty on Motor 5 years on parts
We also Include FREE Shipping Australia Wide!!
Why buy the Kuvings EVO820 for $888, rather than the Kurvings C6000 Domestic for $599 or the C7000 for $799?
I have tested and tried all these juicers and find that the EVO820 allows for the smoothest juice with a slightly longer shelf life.
The C6000 and the C7000, I find the juice is thicker and pulpier, which means that more of the nutrients could have been extracted and then separated further in the masticating process, leaving for a silkier much more smother juice (which happens with the EVO820, but not the C7000 or C6000 Models). NOTE: This is especially important when juicing, as you need to remove all the fibre in the juice to ensure your digestive system can completely rest, so your body can naturally heal.
The EVO820 has a stronger motor than the other Kuvings juicers and a wider lid and for $100 more than the C7000, it was a no brainer to choose the EVO820 as my Kuvings juicer of Choice for a silky smooth juice with no lumpy pulp or premature separation.
Juicing on a regular basis (on an empty stomach) will allow an optimum way to boost your energy levels, increase your immune system, and assist in the healing of your cells and organs for good health – especially when drinking green vegetable juice, rich in electrolytes, nutrients, enzymes, chlorophyll!
BUY NOW
$888
Click HERE to Purchase the EVO820 and Enjoy FREE DELIVERY Australia Wide with a Speedy Delivery of 2-4 business days of purchase, depending on location.
For exact delivery dates, please contact us directly at [email protected]
"Purchasing a Quality Juicer is the Best Investment You could ever make for Your Health!!" – Nadia K