What Juicer Should I Get?
In order to answer that question you must first understand the types of juicers there are.
Lets go from cheap to expensive.
Department Store or Online Cheapo
Firstly, you can buy the department store kind for $200-250, usually a Breville, that will do the job but will waste a lot of produce. Also, with the high-speed way in which the blade chops, it heats and oxidises your juice too much in the process, and you have about 30 minutes to drink it, before it goes bad, and after half the day, it's already gone brown, rancid and will do more harm than good.
So if you want to make juices for the next few days, this juicer will not be able to do so, due to the extremely short shelf life.
 The 2nd and most recommended option, is moving up into the world of cold press or masticating juicers.
And if you are serious about juicing and your health, this is where you want to be at.
What's the difference between cold press and masticating?
Cold press, like the name – presses the produce cold, which eliminates the chance of the high speed blade heating and oxydising the juice too quickly. The pressing action also squeezes a lot more from your produce, once it has gone through a "slicing" process, that cuts the produce into very small particles, making it easier for step 2 of the process, being the press.
A cold press juicer, is usually a two step faze, where there is a chopping/slicing part of the process, and then the press component, usually using a cheese cloth or nut milk bad or generally specifically made juicing bags.
Masticating juicers on the other hand, can still incorporate some what of a pressing action, however the juicer more so focuses on mimicking the human chewing process and is more of a twisting action, which crushes and somewhat squeezes the produce using a spiral auger, to allow the juice to come out nutrient dense.
Kuvings have named their high range juicers as a cold press machine, which in some sense you could say that there is somewhat of a pressing action, however, it would sit more in the masticating juicer range, with the Kuvings commercial juicers lasting a tad longer, due to the inbuilt fan system.
With both the cold press and masticating juicers, juices usually last 3 to 4 days.
This is true for the 3 Kurvings models I have chosen to supply on my website. I believe these to be the most user friendly, quickest to make juices in and clean, whilst still providing top notch quality, tasty, smooth, nutrient dense juice, that lasts 3 to 4 days, so clients will have no excuse not to make their own juices for the week!
What Juicers do we use in the Business?
In the Business Juicing with Nadia K, we use the Norwalk Machine (which is approximately $5,000-$5,500 to bring over from America) and the Kuvings CS700 Commercial, which I now sell on the website and is $2,288, including delivery.
The Norwalk Machine is the bees knees cold press machine (I am yet to find better), and the Kuvings CS700 Commercial Machine is the bees knees of masticating juicers. Both are fabulous, however, the Norwalk, we get an extra 1-2 days out of the juices (shelf life wise) and comes out a touch smoother, due to the use of the cloth in pressing process.
The Kuvings is slightly more efficient in terms of time to make the juices and is less technical than the Norwalk (the Norwalk is an Art!), therefore you don't have to think as much when using the Kuvings, as you do the Norwalk. To obtain the smoothness however, we add in an extra sifting process when using the Kuvings CS700 Commercial machine, to keep that clean smooth consistency of our juice.
I leave the decision of what machine to use up to our ladies, (once they have been chosen and meet the insanely high standards of "Huge Warm Heart, the Kindest Soul, High Vibing Beaming Ray of Sunshine, & Insanely Gifted Spiritual Healer 😊" – about what juicer they wish to use, and depending on what State you live in, it is half/half, as some ladies prefer the technical perfection of the Norwalk (that they and their family can too enjoy) and others the efficiency and simplicity of the Commercial Kuvings.
To me, it is important that our Gorgeous Juicing Ladies (aka High Vibing Spiritual Healing Goddesses) ABSOLUTELY LOVE using their machine, because this love then gets transferred into the juice and acts as an added level of healing for our clients. Everyday my juicing ladies inspire me with how positive and magical they are in each and every moment, the amount of love and support they have for the clients, especially when it comes to working with specific intentions, and their passion to heal people, I love love love them!!
We then go through the Tesla energy process, which takes out the electricity in the juice (which every juicer or blender puts in) as well as then purify any GMOs or impurities in the juice, that may have been in the soil in which the produce was growing (say from chem trail sprays or the general pollution of our water), and then we (the Juicing Goddesses & I from distance) reiki the juice and put in the healing energy into the juice, that lifts the vibration of the juice so high, whilst we work with the clients intentions for their highest good, and then magnifying and enhances the clients intentions with Tesla energy and our geometry, providing the ultimate vibration and energetic environment for the client to heal, through our energetic signature process.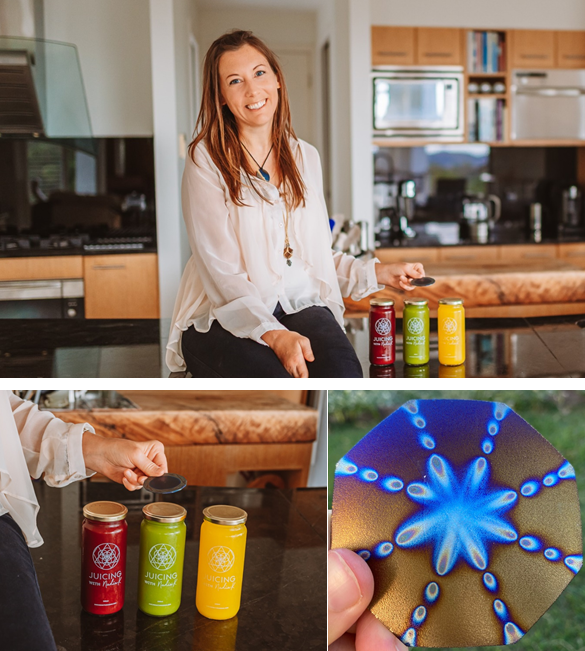 A client cannot do a juice cleanse with us, without shifting massive amounts of density, having huge breakthroughs, ridding bad habits and healing from as much as they allow and are ready for, it is energetically impossible, as the frequency of the juice is so high, that if you flood your body with nothing but 3 – 7 days of this insanely high vibing liquid light fuel, anything of low density, simply cannot survive, and it will shift and move out body and energy field so quickly you won't believe, usually in the form of a sudden surge of uprising of emotions, which when surrendering to, leaves you feeling in a space of absolute bliss and peace!
The whole process from the gathering of the produce and home-grown healing herbs from the garden, making the juice, purifying the juice and then adding in the energetic healing, to delivering the juices to the client's door, with the beautiful souls who do, really is one of pure magic the whole way, and it makes me smile each and every day, to watch this unfold, and to see our client's rid massive amounts of density, grow into Super Star Manifesters, that leave them feeling lighter, brighter, loving their body and inspired and driven like you won't believe, fuelled with immense clarity and Spirit.
Ok Back to the Machines..
Nadia, Again what Juicing Machine should I get?
Ok so after testing them all, the 3 I have put on my website, are the ones I most recommend for anyone who is serious about juicing.
These 3 Juicers are Described briefly next:
Kuvings EVO820 – $888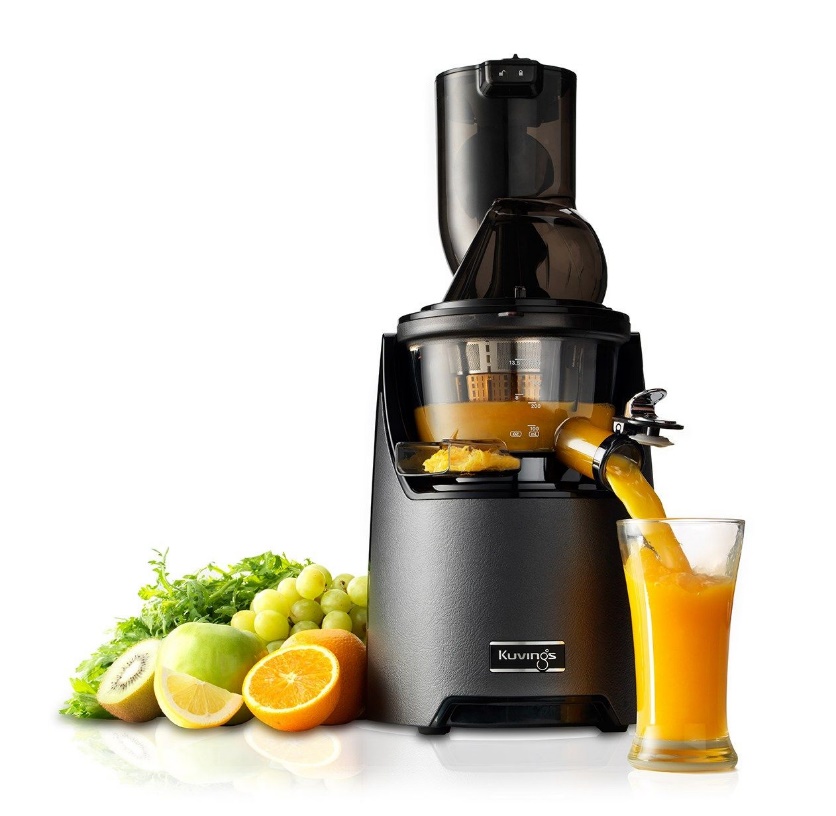 The EVO820 is brilliant for anyone serious about juicing regularly at home and is a great investment and still has a strong durable motor and a 2-year warranty.
You will have to chop the produce with this juicer (so you can't just throw in a whole apple and carrot), but you can easily make about 6 juices and hour, including chopping the produce, but you will need to add some extra time for cleaning and washing produce time.
With this machine you will also need to give it a scoop out of pulp every 8-10 juices, as if you juice a lot of celery like me, this will collect. This happens with every cold press or masticating juicer (the strings of the celery will always collect around the auger, shredding blade or strainer piece and cause friction), so it's just a matter of simply scooping out the stuck pulp, and reassembling after every 8-10 juices made, which will put less strain on the motor and make it quicker and easier for you to juice.
This juicer however is still worth every cent, and it just makes the juicing process so much fun!! Again, you don't feel like you're working whatsoever. I have and have used this juicer for a long time, and it still works as good as new, makes the most divine juice, and allows me to dance and sing in the kitchen, whilst juicing, which is a must for me! 😊
If you live on your own, have a small family and are serious about juicing regularly for your health, and wellbeing. This is the juicer you need to get!!
I have tested the cheaper Kuvings model, just below the EVO820, however I didn't like them, because the juice came out pulpy, the topset was tough to open and close, there was no opening help piece, and the celery clogged way too frequently.
The EVO820 however, after my initially suspicion, left me extremely impressed, and after thoroughly testing and using this machine for a good period of time, I was thrilled enough to put it on my website to sell, and am happy to give you my Gold Star Recommendation!!
Plus you can choose one of the fabulous colours below:
Enjoy this Wonderful Machine… It is such a Treat for Yourself and a Must Have Appliance for anyone serious about their Health!
You can purchase the Kuvings EVO820 Cold Press Masticating Juicer HERE
The next step up is the Kuvings CS600
Kuvings CS600 Professional Cold Press Masticating Juicer – $1988
The Kuvings CS600, to put it lightly, WILL CHANGE YOUR LIFE!!
Not only does it allow you to juice full produce without chopping, it juices so quickly and quietly and you can smash out 40 litres of juice in an hour, if you are super organised!
I personally have made 15 juices an hour, after prepping, so the guy that made 40L must have been on steroids, but HOLY MOLY, who cares, to make you and your family juices, this quickly!! Is insanely exciting!!
The fact that it has a clear juicing bowl, does mean you get to see the levels of juice and mix for longer, without risking overflowing, however I do prefer the stainless steel option personally (which is the CS700), as it keeps for longer, stops the calcium deposits and makes for easy cleaning. Plus, it's a lot more hygienic, as you want the spout of your juicer to be kept crystal clean.
That said, the cleaning tools and brushes given with the Kuvings CS600, are so great, and if cared for, I believe you will easily get a good ten years out of this clear topset and juicing bowl!
The automatic feeder is also AMAZING, I almost feel guilty, because there is pretty much no work involved when juicing with this machine!
My favourite function however is the motor, you can feel how efficient the fan cooling system is in the motor! I've had this juicer on for very long stents of time, and it still kept everything cool each time! This really impressed me!
The other thing I love loved, with this machine, is that you don't have to clean out the pulp as much. I went through 15 – 20 juices easy, until the juicer told me it was time for a clean out. This again makes it soooo time efficient!!
The cleaning is easy, the assemble is so fast, the juicing process itself has made me fall even more in love with juicing… and it has a quiet motor and can juice 24 hours straight!!
So if you decide you cant sleep one night and decide you might as well make the weeks' juices, you can whip them all up and still respect thy neighbours.. 😊
Anyway, long story short – This juicer will blow you away!! And you will be so impressed, your husband, wife, children and friends, will be fighting for your love ;p
If you are a Busy Professional and/or Super Mum or Dad, or on the Healing Journey and Getting or Staying Healthy is Your Top Priority, you want juices to be a regular part of your lifestyle, and you want a machines that saves you precious time, THIS IS DEFINITELY THE JUICER FOR YOU!!
I promise you, you will never look back!
To purchase the Kuvings CS600 Professional Cold Press Masticating Juicer, CLICK HERE
And lastly to the Bees Knees of Kuvings Machines!
The One and Only….
Drum Roll….
The Kuvings Master Chef CS700 Commercial Cold Press Masticating Juicer
HOLY MOLY!!!!!!!!
When I first tried this machine, I was so happy, I cried. No word of a lie!
I honestly don't think I need to write anything else, except this machine HAS SAVED ME SO MUCH TIME!! And for a busy business owner who lives on Juice, and who's time is extremely valuable – You don't understand what that means to me!
So apart from the initial happy tears after making 15 juices in an hour first go (after washing and prepping), followed by 6 thank you prayers to God on my knees (It's a little dramatic in this household :)…  I put my EVO820 into the spare cupboard, and made the CS700 my new Kitchen Centrepiece!!
After proposing to the machine, I literally changed 10 business protocols, allowing this option as a choice, together with the Norwalk machines we use and have available.
The amount of fun I had making my juices, and the time saved, was incredible, and it honestly gave me even more appreciation for juicing.
As this machine is the CS600 but with the stainless steel bowl, the features are still the same as the CS600, meaning, you get;
The Latest Durable Hygienic stainless steel drum, that prevents corrosion, calcium deposits, pervasive smell, and discolouration.
The New and Improved 88mm O Shape Flip Gate (With Wider Feeding Chute)
Has a 24Hours Non-Stop Operational Motor allowing you to juice 40 JUICES IN AN HOUR!!!
A rotating cleaning brush for easier cleaning
A Smart Cap for combining juices and preventing leaks
A clever safety-lock &
the World's Strongest 200W Brushless Motor, that actually makes the juicing process faster, but with less power usage
The unique patented cooling system
Quiet operation
Hygienic Structure
And is very easy to clean, assemble and use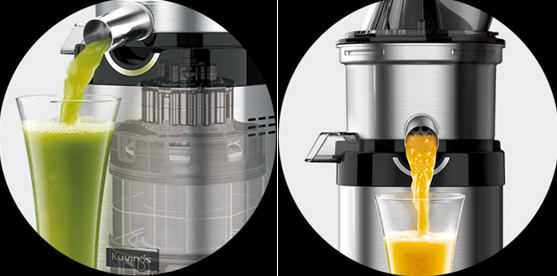 Juices last for 3 to 4 days, and they taste absolutely amazing!!!
And the process of making the Juices with this machine is SO SO SO MUCH FUN!
Because it's a stainless steel drum and can run for 24 hours straight, it suits commercial premises and uses, but if you are like me, and have to have the World's Best of Everything!!…
Then you want the CS700 in your Kitchen!!
You will literally feel like a King or Queen, with this baby sitting on your bench top!!
If you have a large family, are always making juices, live on juice like me, and time is precious beyond… this Juicer will literally be your best friend!
It really is the Bees Knees of Masticating Juicers…
So if you're a Queen or King and Value your Health and are all about experiencing the best of what life has to offer, THIS IS YOUR JUICER!
If you want the Most Amazing Life – If you want to be an Instant Manifester – If you want to feel Amazing Daily – Juicing needs to be a part of your life!
Freshly made organic juices is the highest vibrational fuel and liquid light you can feed your body!
So if you are conscious about what you put into your body, a brilliant juicer needs to be your top priority, so you can make yourself the best fuel for your body, WHENEVER YOU WANT!!
Those who are energetically wise, understand that what we put in our body, effects our very thoughts and feelings, which in turn effects our life circumstances.
Therefore, it's Simple – If you Want the Best Life, Make Yourself the Best Juices!! With the Best Juicer!!
Say no more, This Juicer will CHANGE YOUR LIFE and will be THE BEST INVESTEMENT YOU EVER MAKE ON YOURSELF!
To Purchase the Kuvings Master Chef CS700 Commercial Cold Press Masticating Juicer CLICK HERE
And Well Done, because you are about to create THE MOST EPIC LIFE, by purifying from the inside!!